Inspiraction: inspiring individuals - faster achievement
Executive Coaching
Coaching is based on a methodical system, where the coach helps the client recognise and break through the blocks hindering personal and professional growth at work. Coaches working with Inspiraction are non-judgmental and impartial.

A confidential dialogue takes place between coach and client within a productive, results-driven environment. Our aim is to support the creativity of your people and enhance their skills. This is based on a step process:
Getting the client to define his or her current reality
Helping define values and goals
Developing an action plan that the client can follow
Assisting the client to conquer the barriers to change
A 1998 survey by the International Coaching Federation revealed that 98.5 per cent of clients polled reported their investment in coaching to be highly valuable.

A number of tools and techniques have been defined for coaching, such as the Management Competencies Wheel and the Wheel of Life as shown below.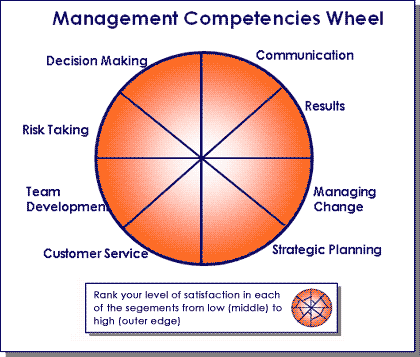 Typical issues include:
Is your performance as a manager the best it can be?
How well are you getting your message across?
Do you always make the best decisions?
How good are you at managing change while planning strategically?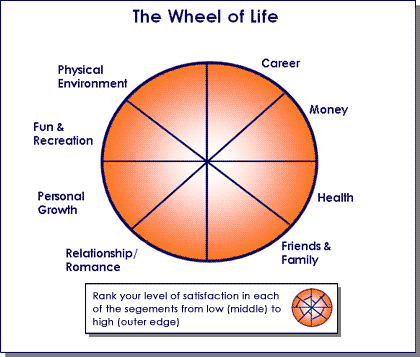 Typical issues to address include:
What is missing in your working life?
Do you feel like you are merely treading water?
How would you make it more fulfilling?
What's the biggest opportunity you are not taking right now?
Coaching applications from Inspiraction include the following:
Corporate coaching In this context, the goal of coaching is specifically applied to the establishment of a company, or helping grow a company to further success. We cover a wide spectrum, from business starts up to major conglomerates. The coaching focuses on boosting the effectiveness and efficiency of individuals and the organisation
Peak performance at work - Helping employees to work smarter and stay motivated. Turning managers into leaders.
Team coaching - Whether this be the board of directors, middle managers or operation level staff, team coaching supports the organisation by improving motivation, team working and empowerment throughout the organisation.
Work-life balance - Getting the right balance at work and away from it is essential to stay happy and fully effective in both areas. Coaching is applied here to all or any aspects of a person's life
What our clients say: (Some identities withheld under confidentiality)



"I finally got round to doing something I should have done two years ago. I no longer have that sense of dread when the alarm goes off in the morning - I look forward to my day." FM, Midlands





"I think one of the biggest concerns any executive or professional has, when approaching a "life coach", is that they will have all the drive and achievement culture "coached" out of them, as they become "calmer, in touch with their feminine side", and decide to go and live in a tent in Stonehenge. What I like about you, is that you've done the things I aspire to, and succeeded at them" HM, Durham





"You've proved flexible enough to respond to urgent needs for a fix to something serious. You've understood me in my battier moments. You have kept on challenging and making me look at things which I thought I had sorted, but once you ask the questions instead of me saying "that will do", then somehow the work actually gets done.





There is a world of difference between thinking about something and actually doing it, between reading a book and being asked to deliver outcomes. That is the difference a coach makes, and that is the difference that I'm enjoying from having you around" HM, Senior Manager, CapGemini Ernst & Young





"You have definitely been a great help to me over my decision to take voluntary redundancy. While many friends and family are happy to 'help', what they really do is try and tell you what 'they' think you should do - with the best of intentions!





What you helped me do - where most others failed - was ask the right questions to help 'me' realise what 'I' wanted to do and what I was afraid of - and help me put that fear into my own perspective. Your coaching helped me to decide what 'I' wanted and find the confidence within myself to make the decisions I really wanted to make. So thanks!" LW, Manchester



contact@inspiraction.com


---